How to remove Call Reason on the Truecaller business console?
For removing a numbers from Call Reason you need to select from your existing list of Call Reason. Then select either of the two options; Number Grouping or List Upload mode to remove the Call Reason. Please note it will take 48 business hours for the Call Reason to be removed from the numbers.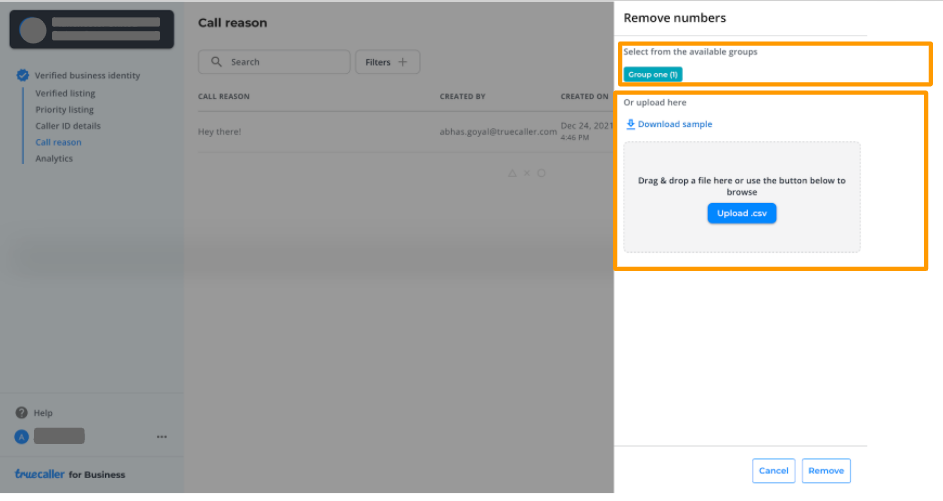 Related Articles

How to activate Call Reason from the Truecaller business console?

Step 1: To add Call reason you need to click on the Call reason option on the left hand menu and then click on the "Create call reason" button to start the process. Step 2: Add the Call reason as per your calling intent following the guidelines. The ...

What is Call Reason?

Call Reason enables Verified Businesses to let their customers know why they are calling them. It helps in adding context to business calls and improves customer confidence by communicating even before the call is picked up.

What is the prerequisite to start Call Reason?

The number for which Call Reason is to be displayed must be a valid phone number and already a Verified business or Priority number with Truecaller.

What is Number Grouping on the Truecaller business console?

Number groups will allow you to manage your phone numbers with ease and get granular information related to each number group you create. You can now create number groups for certain processes according to your internal team needs. Please note, the ...

How to activate Number Grouping on the Truecaller business console?

Number Grouping for new users on the Truecaller business console: Step1: Post completion of your onboarding and payment checkout, users can start with creating your Business Caller ID/Label Step 2: Caller ID/Label Creation Ensure your using a ...